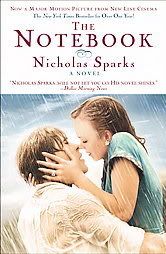 Currently Reading:
The Notebook
By Nicholas Sparks
see related
here i am again, once more trying to juggle things in my life that i feel would give me pleasure when ever i accomplish them. i'm not even sure that they would.
there's a lot of things that i have to have done by this week and some i haven't even started yet. there's this article that i have to pass for the publication for IN, then there's this dance that we have to perfect and i video to finish just in time for my
lola's
70th birthday. with these things, i still have to worry about school stuff and nudge into the schedule my chorale performances and practices for the 29th (paco park presents uli kami! *0*)
sa
ayun, ang mga umagang ito ang tanging laya ko mula sa mundo kong
super hectic. sana i have money to have a massage every now and then, and probably to buy back the mp3 i lost. damn, i'm never drinking at a friends place again without making sure that my things aren't kept safely inside my bag.
by the way, is the notebook good? they say it's better than that of the movie but i haven't got the time to finish it. actually i haven't finished any of the books i've started. goodness, i don't think i've gone as far as a hundred pages in the
sandman
by
neil gaiman
.
damn, my life is in such disarray right now. i hope i get to fix it and instill a little order into the chaos.
that's it. peace!