a lot of things have changed ever since i entered FEU.
first of all the type of education that i got. obviously it isn't of the same quality as the one i acquired in UP but it wasn't all that bad. although the teachers were much less adept in their craft, some really stood out. and the funny thing is, most of the ones i'm talking about who were ok were the ones who graduated from UP as well. but yes, there were still some who didn't graduate from UP who were really smart and fun.
the thing is though, the professors shouldn't always shoulder the blame. the curriculum in the garden of morayta really sucks specially if you're a nursing student. there's a lot of subjects that you don't need that they force on you that you should take. stupid really.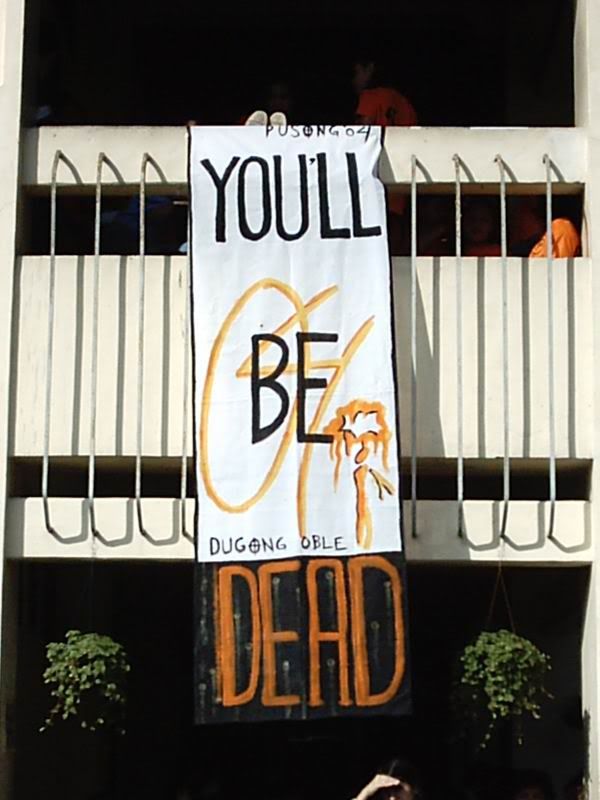 things that happened to me in daily life is another change. in IS i never really studied. i really took my studies for granted, enjoying my life as a high-school student in one of the best schools in the philippines. what changed? well, life happened. i saw the hardships that imposes itself on my family that my eyes were opened as to how i should pursue my college career. although i didn't make a complete 360, i still changed academically. i took it seriously.
then there were the activities. it wasn't much of a change only now i am more active and more serious about the clubs i join. i don't just join in a whim and leave as fast as it took for me to think about the reason why i am joining anyway.
i've managed to stay in the chorale for quite sometime now, almost two years
na pala
. really cool! and ofcourse there's the yearly plays of masscom students that i join. now i embarked into a new road and dared to tackle the newspaper field. i feel that i aced the try-outs and now i'm officially a writer and an artist.
last but most definitely not the least (yuck! super cliché!) are the people.
kakaiba rin ang mga taong nakilala ko dito. meron mga
super abnormal
na tipong lahat nalang ata ng
deadly sins
eh hinakot at sinaksak sa pagkatao nila tapos meron rin namang mga taong totoo na hindi mo matatawaran ang pagkakaibigan mo sa kanila.
they were really good people that i'd never forget them. i can actually say that i had more fun in one year of my FEU life compared to my four years in UP. ofcourse there are some things that would never be in morayta that my heart loved in diliman but still the memories are much better in manila. the people made sure of that. and for that i am loving my time here.
a lot has really changed. and i mean really changed. and i think it's for the better.
peace!